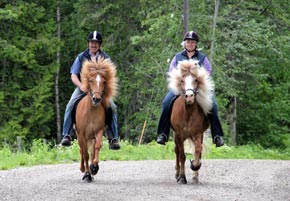 Tolt Away Icelandic Horse Farm is operated by Erhard and Iris Marenbach. The farm is located close to Enderby, in the North Okanagan (BC, Canada). We breed, train and sell our Icelandic Horses all over North Amerika.
Erhard loves all aspects of training. At Tolt Away our training is based on the goal for the horses to become great equine partners for their future owners. Our goal is to get a responsive and reliable horse.  We respect our horses as individuals and each horse is trained according to their talents and capabilities.
All our horses are purebred and registered with the Canadian Livestock Records Corporation.
Some credentials to our work for the breed in Canada:
Erhard is a licensed National Sport Judge for Icelandic Horses ( since 2004) and he also was one of the few to be National Breed Judge for Icelandic Horses in Canada.
Erhard Marenbach has served the Canadian Icelandic Horse Federation as Breed Leader/president for years.
For many years Iris volunteered as first Canadian Registrar for the international database for Icelandic Horses WorldFengur . It was a labour of love to enter over 2300 horses into the database.
We hold a deep philosophy that the best way to guarantee a solid, fun relationship between the rider and the horse is to ensure a good match between them.
Erhard gives courses for Equine First Aid Courses on and off our farm. Please see our event page for upcoming dates. These courses help horse owners to react appropriately providing first aid to their horses before the vet arrives.
Iris, Erhard's wife loves trail riding and to take care of the horses.